The Sentimental Garbage Season 4 Reading List is Here!
Hey Garbage babies! I hope y'all are enjoying the brief podcast hiatus while I pick the dirt from under my nails and attend the gym with frightening regularity. New episodes will be back from early-to-mid-October, depending on how badly I'm avoiding my book edits. You know how it is. I haven't settled on the order the episodes will run in yet, but load up these babies on your Kindle and prepare to get your rocks off to some hot, sweaty Garbage.
Sweet Valley High: What Jessica Wants with Jessica Pan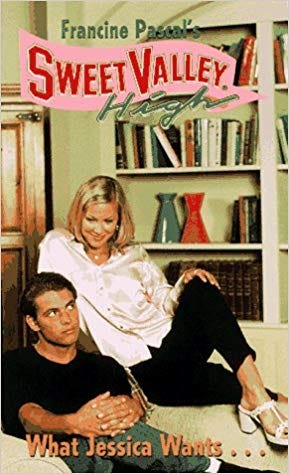 I read a lot as a kid, but not necessarily stuff you might have heard of. Ireland in the late nineties had a penchant for making history real for kids, like really real, like Darren Aronofsky real. It was all Brian Boru and choose-your-own-adventures stories where the only available endings were "died of starvation", "died in a workhouse" or "died on a coffin ship". As a result, I wasn't exposed to a lot of American fiction, except for maybe Goosebumps and the Babysitters Club. I had heard of the Sweet Valley High books, but assumed they were, y'know, sweet. Having recorded an episode on them with author Jessica Pan, I can assure you they are not! People are always dying in motorcycle accidents, or dying in drink driving accidents, or putting each other in comas?? Obsessed.
A Court of Thorns and Roses by Sarah J Maas with Jennifer Cownie
The unwieldy sounding A Court of Thorns and Roses (or ACOTAR for short, and thank God for that) is a sub-section of garbage that we haven't talked about yet on the podcast, which is high-fantasy, extremely horny garbage. This first book in the series is a Beauty and the Beast re-telling with a Hunger Games vibe running through it: your typical girl who is hardened by poverty and has to go live in The Weird Place, where everyone is decadent and no body gets her. Until… there's a huge, pagan orgy? And there's all this incredible sex-positive feminism, and a giant worm, and then a TWIST?
Ugh, I loved this. It's my favourite kind of garbage, in that it's incredibly stupid and even poorly written at times, but also… extremely smart, and very, very horny.
The Fortnight in September by RC Sheriff with Andy Miller
Complete key change here, from high garbage to high sentimentality. The Fortnight in September is, essentially, a 300 page story about a family who go on holidays to Bognor Regis and have… a nice time? That's it. That's the tweet. I implicitly trust the taste of Backlisted's Andy Miller, but I also know that what we both want from books can be different. This is probably best summarised by the fact that when he picked up Hotel Du Lac by Anita Brookner, he went on a year-long Brookner binge; and when I found my dog chewing on an early edition of the same book, I just sort of carried on and let her.
With The Fortnight in September however, I think it's fair to say that both me and Andy completely fell in love with it. It's this incredibly tender, deeply funny story that has the linguistic simplicity of a Puffin book and the emotional devastation of a Chekhov play. Reader, at this risk of sounding like a total luvvee: you simply must.
The Thorn Birds by Colleen McCullough with Caroline Kepnes
The Thorn Birds is one of those books where, for years, I could never remember whether I had read it or whether I just had extremely strong memories of my sister reading it. It's one of those books. It sucks entire households in. For the uninitiated, or for those who didn't have a television in the eighties: The Thorn Birds is the story of the Cleary family's rise through Australian society in the 20th century, but chiefly, it's the story of how Meggie Cleary falls in love with a priest, locking the two of them in a lifelong grudge match for one another's hearts. It feels like a timely moment for the world to rediscover this book, what with everyone shouting "Kneel!" at poor old Andrew Scott.
Riders by Jilly Cooper with Jojo Moyes
At last! At long fucking last! We are doing Riders! What else is there to say! I read all your emails! We're doing Riders!
Geek Actually by Cathy Yardley, Melissa Blue, Rachel Stuhler and Cecilia Tan, with Kirsty Logan
This is an interesting one! So basically, Geek Actually is by a publisher called Serial Box who are trying to bring back serialised reading by releasing stories an "episode" at a time. They recruit authors with niche or genre audiences, then pair them up to flesh out a story. I bought the complete series on my Kindle, and man, I was impressed. It's your standard girls-in-the-city chick-lit arc, the difference being that the women are gamers, fantasy readers, cosplayers and board game buffs. Y'know, nerds. They're nerds. But they're nerds who bang, who have real jobs, real problems, and deal with stuff I have genuinely never seen dealt with in commercial women's fiction before. I love that feeling that chick-lit can give you: when you go "oh, I've met that woman, but I've never actually seen her anywhere in literature, until right now."
Less by Andrew Sean Greer with Phil Ellis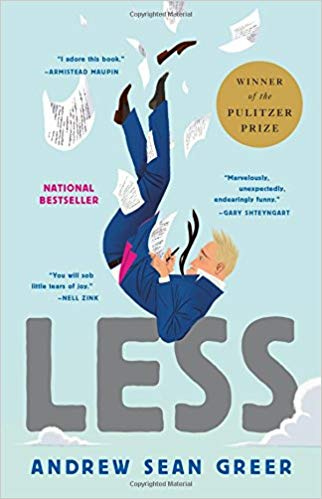 This is probably the biggest outlier on the list, in that no-one in their right mind is going to call Less garbage. In won the goddamn Pulitzer. But behind the gold badge is fun, and love, and romance, and sentences that make you want to tear your hair out in envy. Once a day I think about Arthur Less, and how "he kisses—how do I explain it? Like someone in love. Like he has nothing to lose. Like someone who has just learned a foreign language and can use only the present tense and only the second person. Only now, only you."
Why Mummy Drinks by Gill Sims with Adele Parks
Some books I cover on this podcast because I love them, and I look for a guest who is a perfect fit; some books get covered because the guest loves them. Mostly, those two things intersect! While reading Why Mummy Drinks, I have to admit I didn't love it. I liked it, it made me laugh in places, but on the whole I found the main character a little depressing to spend time with. However! I had such a brilliant time with Adele Parks, who had so much to say about how motherhood is represented in fiction, that I can't wait for everyone to hear this one. She's so funny and she's written so many damn books! I loved her.
Are You There God? It's Me, Margaret with Louise O'Neill (live at the Cork Podcast Festival)
If you live near Cork you can come to this one! It's on the 11th of October! I'm excited for this one, because while the story of a pre-teen girl and her obsession with religion is alway pertinent, it feels even more so in the context of doing it on an Irish podcast stage. I know me and Louise were both pious little so-and-sos as children, so I'm excited to learn about the many religions we both almost converted to. We're also going to talk about the impact of Judy Blume more widely, so there's something for everyone here.